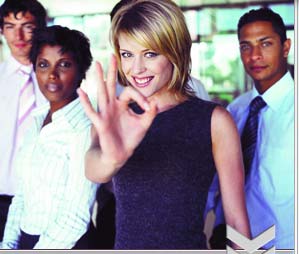 Mortgage Website Samples
We make it our purpose to ensure you look the best online. Loan Site Plus™ has an expanding library of mortgage website designs to choose from. We are frequently adding new and updated selections.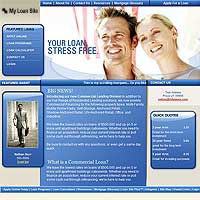 >> View More Samples
Marketing a Small Mortgage Company
Mortgage marketing can be a challenge, but it is not necessarily a challenge that cannot be overcome with a little planning and forethought. In the world of large companies like Countrywide and Lending Tree, name recognition is the key to success in mortgage marketing. It is vital to the success of your mortgage business to acquire and maintain name recognition.

It is an unfortunate truth to any business that customers don't just magically walk through your door, begging to use your services, praising the fact that you are even there, and telling all their friends and neighbors about you. That would certainly assist in the dilemma of mortgage marketing. In the real world, that just simply isn't the case. That has been a nice fantasy for many people just starting out for the first time in business. That fantasy, however, can prove to be a deadly formula for failure if left unchecked. The road to success after all is littered with hundreds such stories of a marketing fiasco. Mortgage marketing obviously takes much more than this, such as advertising and having one or more mortgage websites.

Small mortgage companies are not immune to this reality. In fact, a small mortgage company tends to have a more difficult time competing on a large scale because of the vast name recognition of the competitors. Resources tend to be limited and unavailable for mass TV marketing campaigns. Other traditional avenues can also tax resources to the breaking point.

Then there is the question of customer base. Today's average home buyer is between 30 and 45, a member of Generation X. They grew up in the MTV age and are very comfortable with technology. They tend to like the scheduling freedom of the Internet and are skeptical of advertisers and their propaganda. What is the most effective way to reach them? Many have small children. Members of the Generation X market are multi-taskers and can easily move from one position or one job to another.

The answer lies within your mortgage websites. Don't have a website? Get one. In today's marketplace there is little room for companies without a professionally designed and maintained website. If you don't know anything about websites, you need to hire someone for your mortgage website design. Your mortgage website is quite often the first introduction your customer has to you. It has to look professional, which in turn makes you look professional. Remember, if you're going to compete with the big boys, you've got to do it on their level. Your mortgage website is the first step. Look at your competition, especially the national companies, and see what they have on their mortgage websites. What is their mortgage website design? What works well? What doesn't? Your mortgage company may be small now, but the whole idea of business is to secure your piece of the market pie. To do that, you have to compete on their level.

Once you have your new competitive mortgage website with a good mortgage website design, you have to attract people to it. This can be done in a number of ways, including through search engines. Registering with search engines is a challenge for even the most computer savvy non-geek. The technical advances the search engines have made in the past few years have made the task even more difficult. To top that off, most popular search engines charge a fee. That's not what an enterprising young executive business owner wants to hear. The answer to this problem may be simpler than you first think. Speak to your mortgage website design professional about "Meta Data." This is data hidden in the website, which is then found when search engines index different types of websites.

Additionally, make sure that you have some meaningful content on all of your pages. Keywords are vital here. These are the words that the search engines look for when searching. If you tend to be someone who is thrifty with the written word, perhaps look at hiring a content writer. There are a number of companies designed to provide content for websites for a relatively inexpensive fee. This may be a good way to fluff up the website content if you are writing challenged.

Another good method to increase name recognition and mortgage marketing is by linking and being linked to other sites. What businesses do you currently have a good relationship with? There may be an opportunity there mutually beneficial website linking. Doing so will help increase the numbers of hits both company's receive. Over time this will help increase the ranking on the search engines.

Once the customer's find your site, make sure that they stay there. This is more than just having a professional website. This means having the tools available for your customer so that he or she does not have to go looking elsewhere for the answers to any of their questions. Think about loan and payment calculators. They make it easy for the customer to plug in their own numbers and figure out what is best for them in the privacy of their own home. Perhaps you may want to have a glossary of terms pertaining to the acronyms used on your site. This will enable them to fully understand exactly what you are talking about. The longer you can keep a customer on your site, the better chance you have of closing the deal. Put as much information on your site as you can in a cost effective professional manner. This is not a time to forgo appearance. This is a time to show how open you are with your services.

Mortgage marketing and making your company competitive in today's marketing can be done. It is important to remember that it will not come overnight. It may be up to a year before the marketing pays off with the type of name recognition that you hope for. That being said, once all the stars align and you start receiving massive numbers of hits on your website, don't be surprised if you have to hire additional staff to handle the workload.

View our website samples

View our comprehensive feature-set

Order today!


------------------------------------------------------------------------


Mortgage Website Design and Tools - Demo Site

Although the Loan Site Plus is easy and pretty much self-explanatory, we know there are some of you that like to "test-ride" before making that buying decision.

Give us a call toll free at 877.201.3060 and we'll have a representative walk you through an actual demo account on the phone.

Use the contact form below to if you would like us to contact you. We'll be happy to discuss our site packages in detail with you.